Marketing Translation Services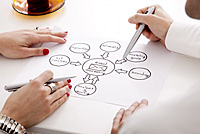 A business is only as effective as its marketing, and this is true for the smallest neighborhood store as it is for Toronto's largest multinational businesses. In the Greater Toronto area, marketing can't be restricted only to English. In the area around T.O., more than one million potential customers speak a language other than English. This means that if you aren't marketing in more than one language you're missing out on hundreds of thousands of potential customers. Even the smallest businesses now recognize just how essential marketing translation is for reaching tens of thousands of people with each new language added.
Proper Marketing Translations Can Create New Opportunities
for Your Business, Get Started Today!
TorontoTranslations.com combines the power of superior language skills with deep knowledge of Toronto area businesses and Toronto's multilingual communities to provide exceptional marketing translation services. Our translators are all native speakers of the languages they translate, but they are also experienced in working with marketing materials to provide the best quality, most effective translations in more than 150 world languages and dialects—including those most spoken in Toronto. In the city, the most spoken languages after English are Italian, Chinese (all forms), Punjabi, Tagalog, Portuguese, Spanish, and Urdu. We also provide complete support for French translation for Canada's official bilingualism.
Have Your Marketing Materials Translated by Marketing Translation Specialists Today!
When you place your order with us, we'll match your project to one of our expert translators in your target language who is also experienced in translating marketing documents. Your translator will evaluate your marketing materials and carefully adapt your marketing materials to the specific language needs of your target audience. It is not enough to simply translate marketing materials literally; they need to be adapted to the idioms, values, and expectations of the target audience. This is something our translators excel at providing.
We Only Hire Experts and Professionals so Your Translation is Completed with Precision
When you need marketing translations in Toronto, turn to the local translation firm located right here in Toronto with deep knowledge of Toronto's many languages and its business community. We work hard to ensure every document translation is accurate and appropriate for Toronto, something we guarantee by having a second translation expert review your translation before delivering it to you.
Translation Documents Handled With Urgency and Care - Let's Get Started!
Call 416 222-2896 Today!