Woodbridge Translation Services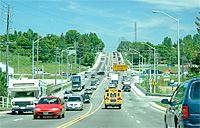 No Man's Land
It's ironic that a city as large as Woodbridge would be without official political boundaries but such is the strange and surprising world of the City of Vaughan suburb. More than 100,000 people call this city home, widely regarded as one of the most affluent places to live in the Greater Toronto Area. It is also one of the most popular landing spots in the GTA for new immigrants; city records show Woodbridge has seen a sizable increase in demographics from all over the world, although Italian-Canadians remain the largest faction. But it's not all positive – Woodbridge is also considered by law enforcement to be the most dangerous and desirable destination for street racers in the province. Several documentaries have covered this phenomenon, as many work to make the city as safe as possible a place to live and work.
With Arms Wide Open
Part of what makes Woodbridge so appealing to new Canadian immigrants is its proximity to so many larger cities, but also its commitment to diversity and its embrace of various cultures. With such a large number of visible minorities and peoples being represented in one area, translation services offered by reputable translation companies have been called to action in order to keep Woodbridge immigrant-friendly. French interpreters and translators have a particular niche here because of the high volume of French-speaking nationals and foreigners who settle in Woodbridge and work in the larger surrounding business areas. Financial and legal document translation is of particular importance because of Woodbridge's reputation as a more affluent area; thus the type of individuals and families choosing to settle there put such document translation at a premium. Keeping communication open is the goal of all interpersonal interactions and that's what translation companies bring to the table in an area like Woodbridge.
How TorontoTranslations.com Can Help
Our team at TorontoTranslations.com is an industry leader in translation services. We service businesses and individuals, taking on work in even the most obscure dialects. We have been providing the kind of professional and accurate translation assistance in Woodbridge that all our clients have come to expect from our skilled, educated translators. We are fully capable of facilitating effortless communication among people and establishments. Call or email us today for more information about how TorontoTranslations.com can help you with all your translation needs in the Woodbridge area.
Get a Professional Woodbridge Translation Service Provider to translate your Documents Accurately and on Time Today! Call 416 222-2896 Now!

Go back to Local Services