Stouffville Translation Services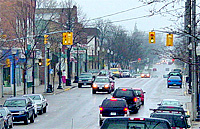 An Urbanite's Escape
Like other former villages surrounding Toronto, Stouffville has seen more and more urbanites looking to escape big city life for a simpler living space. That would explain how the once quaint Stouffville area has seen its population grow by 100.5% since 2006. Now 25,000 residents call the town home, and many project that number to continue growing. It's a place steeped in history, with landmarks including a grist-mill and sawmill increasingly out of place near Stouffville's rapidly growing urban center. Still, urban Stouffville is just 4.5 kilometers large, so how the area intends to handle the projected population growth will likely impact which historical spaces remain intact and which are cast aside to make way for more family homes.
Small Town, Big Opportunities
Until recently, the biggest claim to fame Stouffville had been three of its natives achieving NHL star status. But now, with the population boom, there's more concern about integrating new residents than being focused on the success of old ones. Translation services in Stouffville have become an increasingly important property. The use of French translators is in particular demand, not only because of the bilingual requirements of many Canadian jobs, but also because of Stouffville's proximity to Toronto. As the Canadian mecca of culture, economy and finance, many newcomers to the country choose to settle in areas like Stouffville and commute to the bigger cities surrounding it. Offering French translators who can help make the transition to small-town life easier is paramount to integration. Additionally, legal document translation is a necessity for many new immigrants who struggle to fit into the relative prosperity of Stouffville. When trying to find affordable housing or new employment in the private sector businesses based in the town, legal document translation is often the first step for many in getting off the ground toward a new future.
How TorontoTranslations.com Can Help
When it comes to translating and interpreting, TorontoTranslations.com is an industry leader. Businesses we worked with have acknowledged our quick turnaround time and thanked us for our professionalism, saying our services went over "very well" during their client interaction. We have been providing businesses and individuals with this kind of professional and accurate translation assistance in Stouffville. Our highly educated and skilled team is fully capable of facilitating effortless communication among people and establishments. Call or email us today for more information about how TorontoTranslations.com can help you with all your translation needs in Stouffville.
Our Stouffville Translation Service Provider's Translate your Documents Accurately and on Time! Call 416 222-2896 Today!

Go back to Local Services