Oakville Translation Services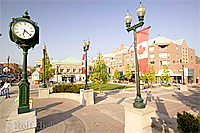 Oakville is a gorgeous and thriving community west of the GTA along the beautiful shores of Lake Ontario. With a population of over 170,000, Oakville offers a strong and dynamic economic industry. Many new businesses are constantly basing their roots in Oakville, and are thriving.
With many national and international corporate headquarters based in this city, many companies have diverse backgrounds, such as the manufacturing, automotive, pharmaceutical and construction industries. With such a diverse community, there is a great need for Oakville translation services of all kinds. Among these diverse ethnicities are the Scottish, who make up a large percentage of the Oakville population. In many situations, the need for Scottish to English translation is necessary on many levels, from business, to medical, to marketing.
Using Professional and Reliable Translation and Transcription Services
TorontoTranslations.com is a Canadian translation company that offers services for a wide range of translation needs. Our company employs reliable professionals who are able to offer clients with high quality, prompt translation projects for many different requirements. TorontoTranslations.com has been providing language translation and transcription services and accurate interpretation in the Oakville area to many satisfied clients. In fact, we have completed over 10,000 translation projects with incredible accuracy, quality and punctuality.
Oakville Translation Services Offered
TorontoTranslations.com can complete a number of translation services in over 150 different languages and dialects, including the following:
Document Translation
Marketing Translation
Financial Translation
Medical Translation
Legal Translation
Website Localization
Interpreter Services
Government Translation
Manual Translation
Audio-Video Transcription And Translation
Why Choose TorontoTranslations.com?
There are many reasons to put your trust into TorontoTranslations.com for your translation needs. We offer our clients many advantages, including the following:
24/7 Assistance
Experienced and Skilled Translators
Over 150 Different Languages and Dialects to Translate
Competitive Prices
Complete Confidentiality
Prompt Service
Do you have a translation project that needs immediate attention? Are you looking for a company that can translate a document from an obscure dialect? If so, TorontoTranslations.com will take care of your project for you. Whether you are looking for marketing translation services for your business, or need Scottish to English translation services to communicate effectively with a business partner, you'll get all the assistance you need at TorontoTranslations.com.
Our professional and highly qualified translators are standing by to tackle your Oakville translation project for you. Call today!

Go back to Local Services