Newmarket Translation Services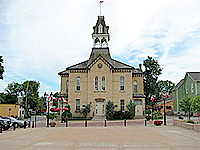 Come Here to Settle Down
No matter how big or small, each city has its claim to fame. For Newmarket, that claim comes courtesy of MoneySense Magazine, which regularly ranks the municipality of 80,000 on its "best places to live" list. The city is vibrant, with a economy that runs on public sector employment and the median household income is far above the provincial average, clocking in at just under $97,000. While the area is amongst the most wealthy in Ontario, it's also one of the most historic. More over 100 years, the downtown has been a hub of commerce and activity, drawing in tourists to a night life and entertainment scene reminiscent of an era gone by. Several Canadian landmarks dot the street of Newmarket, and those who visit are treated to a veritable history lesson that won't soon be forgotten.
People Helping People
With so much of Newmarket's population invested in public sector pursuits, translation services in the city are an important consideration. Hospitals, health centers and school district offices all call this city home, and in a country like Canada that prides itself on being as accessible to its English speaking population as its French speaking population, French translators are a common need. Whether living or traveling through this area, the need for translation of healthcare-related documents and education paperwork is at a premium, which is why the demand exists for French translators. And both the healthcare and education industries lend themselves to needing legal input, particularly when dealing with new immigrants. Legal translators who are adept at working in a bilingual country and a place as multicultural as Newmarket are what help keep communications open and maintain the high level of service and accuracy that companies and the city's population have come to expect.
How TorontoTranslations.com Can Help
Our team at TorontoTranslations.com works hard to help you facilitate effortless communication among people and establishments. We work with all areas of need, from finance to legal, to ensure you are getting the best translation service possible. At TorontoTranslations.com, we translate more than just the words on the page; we translate the meaning behind those words so you get the most accurate translation possible.
Our large staff of educated and highly skilled translators are able to work to whatever deadline you and your company need so you're never left out in the cold. Call or email us today for more information about how TorontoTranslations.com can help you with all your Newmarket-area translation needs.
Have a Local Newmarket Translation Service Specialist Assigned to Your Project Today, Call 416 222-2896 Now!

Go back to Local Services