Mississauga Translation Services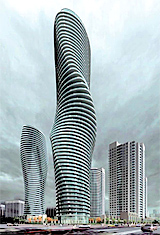 The Need For Mississauga Translation Services
Mississauga is a bustling city on the west end of the GTA, with a wonderfully diverse population. Toronto Pearson International Airport is located within the northern part of this city. Having this port within the city and being a within a multiculturally diverse sector of the province, it is no wonder that Mississauga's demographics are incredibly diverse.
Some of the most prominent ethnicities within the city of Mississauga include East Indian, Portuguese, Italian, and Chinese, among many others. Considering the abundant number of Chinese speaking citizens in the city of Mississauga, the need for Chinese to English translation services are essential, in addition to other language translations.
TorontoTranslations.com is Your Source For Expert Translation Services
TorontoTranslations.com is a Canadian company with its headquarters based in Toronto. We have provided translation and transcription services not only to Toronto, but cities all over Canada, including Mississauga. We have proudly completed over 10,000 projects with great success, and with immense customer satisfaction. Our clients are widely varied, and highly valued. Become a valued customer of TorontoTranslations.com today!
What TorontoTranslations.com Offers
We are highly capable of providing our clients with the following services:
Experienced translators: Our highly qualified translators have years of translation experience, as well as high levels of education.
Wide variety of languages: Our translators are able to translate in over 150 different languages and dialects. Whether you need Chinese to English translation, or English to French translation, TorontoTranslations.com is here for you.
Quick turnaround times: If you are in urgent need of having a document translated or transcribed, TorontoTranslations.com will complete these emergency translation projects very quickly and with amazing accuracy.
Competitive prices: Our rates are very competitive and affordable. We will work with you to stay within your budget.
Wide variety of subjects: Regardless of your area of need, we will be provide you with Mississauga translation services in many different subject areas, such as:
Legal translation
Technical translation
Medical translation
Marketing translation
Website localization
Financial document translation
Outstanding customer service: Our customer service representatives are highly knowledgeable, experienced, helpful and ready to help you with any question or concern you may have.
Confidentiality: We will maintain the strictest confidentiality policy, regardless of what the translation project is for.
Whether you need marketing translation services, technical translation services, or any other type of translation or transcription service, we can provide you with the assistance you require to meet your demands. Call us today for a free quote!
Get your Documents Translated by Local Mississauga Translation Service Professionals,
Call 416 222-2896 Today!

Go back to Local Services