Etobicoke Translation Services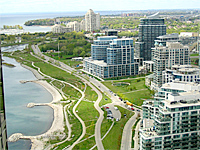 Etobicoke is a gorgeous municipality within the GTA, and borders on the city of Toronto. This municipality has always been a great place to invest in real estate, as the value of property is quite high. In addition, the construction industry is booming in Etobicoke, with the emergence of multiple high rise condominiums that are popping up all over the city on a continuous basis.
Considering how busy the construction and real estate industries are, it is no wonder that many individuals and businesses are in need of professional and accurate construction translation and real estate translation services, among others.
Although English is the predominant language spoken in Etobicoke, Italian is also quite popular due to the high number of citizens of Italian descent living in this beautiful city. TorontoTranslations.com is able to provide Italian to English translation services to those who need to effectively and accurately communicate with each other, but are divided by a language barrier. Breaking down these language barriers is made possible with the diversified translation services provided by TorontoTranslations.com.
How TorontoTranslations.com Can Help With Your Translation Needs
Regardless of whether you need Italian to English translation or any other language to be translated for you, we've got you covered. At TorontoTranslations.com we offer our clients the following translation services:
Medical Translation
Legal Documents Translation
Financial Translation
Business Translation Services
Interpretation Services
Website Localization
Construction Translation
Real Estate Translation
Transcription Services
Regardless of what type of service you need, or how fast you need it, you can be sure to get the quality service you require at TorontoTranslations.com.
Benefits of Using Our Etobicoke Translation Services
At TorontoTranslations.com, we love what we do, and it shows in our high quality translation projects that we have completed for thousands of our clients. Since we have a passion for this industry, we put our best efforts forward to deliver you the best translation services possible. We employ only the best and most dynamic translators who pass stringent testing and qualifications in order to assure you that every translation project is accurate and well-communicated.
What You Can Guarantee to Get With TorontoTranslations.com
Top quality translation services and documents
Excellent customer service
24/7 assistance
Rapid turnaround for projects
Affordable prices
Satisfaction guaranteed
Our friendly and knowledgeable customer service representatives are available to guide you through your first step to getting the Etobicoke translation services you need. Get started today!

Go back to Local Services