Brampton Translation Services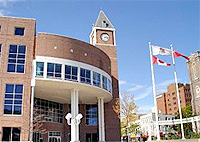 Brampton – A Rapidly Growing Municipality
Brampton is a city located north west of the Greater Toronto Area, and is one of Southern Ontario's fastest growing cities in terms of both population and industry. In addition, it is considered the youngest community in the GTA. The demographics of Brampton include a very large community of Asians, which make up about 1/3 of the entire population of Brampton.
Cultural Diversity of Brampton
Brampton's large community of Indians and Asians has made it an incredibly diverse city, where its inhabitants speak more than just English. Although English is the mother tongue of this city, other highly used and very common languages spoken and written by the residents of Brampton include Punjabi, Gujarati, Urdu, Spanish and Italian. Thanks to the high cultural diversity, jobs, and infrastructure of the GTA, Brampton has become a leading destination for immigration, driving more and more demand for living space.
Economic Growth and Strength of Brampton
Brampton's geographic location has allowed this city to develop a strong economy. The strategic location of Brampton and its proximity to Pearson International Airport and road infrastructures, along with the rapid population growth, lower cost of land and favourable corporate tax structure has help the city of Brampton to become a desirable location for a variety of corporate head offices and warehouses.
Such desirable factors have helped Brampton drive its economic strength and diversity, which operates in many cases on a global and international level. With such diversity on both the industrial and demographic level, it is no wonder that the use of effective Brampton translation services is essential.
Brampton Translation Services for a Global Market
As Brampton continues to grow in both population and industry, using accurate and reliable Brampton translation services becomes more and more important. Based on the cultural diversity alone, having a reputable Brampton translation agency available to help parties communicate with each other properly is crucial.
Based on the cultural make-up of Brampton's population, Punjabi translations have become one of the most sought after services in the translation industry in Brampton. However, there are many other ethnicities in this city, making other services like French to English translation or Chinese to English translation often sought after.
The many businesses and industries operating on a global level with head offices in this city also need to use translation services in Brampton for a variety of reasons, including:
Financial document translation
Legal document translation
Real estate document translation
Website document translation
Localization
A professional and reliable Brampton translation company like TorontoTranslations.com is a crucial resource for businesses operating on an international level.
TorontoTranslations.com – Bridging the Gap Between Languages
Many businesses and residents may have varying degrees of translation needs, depending on their unique situation. Having a credible Brampton translation service available to help, like TorontoTranslations.com, can make a world of difference for all translation needs. Accurate and quality translation documents are crucial for a company's image, as well as any business prospects and revenues.
A company like TorontoTranslations.com is able to offer all clients many services, including:
On-site interpretation, such as French to English translation or Chinese to English translation
Urgent Brampton document translation of all sorts
Translators with over 150 languages spoken
Quality translation projects
Competitive rates
With TorontoTranslations.com, no project is too big or too difficult. Give us a call today and let our Brampton translators deliver effective, accurate, prompt, quality translation projects to you and your business!
Get your Documents Translated Accurately and on Time by Local Brampton Translation Service Professionals, Call 416 222-2896 Today!

Go back to Local Services