Aurora Translation Services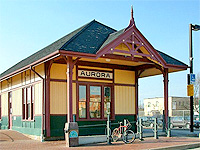 The Affluent City of Aurora, Ontario
The city of Aurora is located about 20km north of Toronto, and is a growing and affluent city in the diverse York Region. As part of the Golden Horseshoe of the Southern Ontario region, Aurora continues to boast successful businesses, industries, and diverse demographics.
Considering the close proximity of Aurora to the downtown Toronto core, thousands of residents of Aurora commute to Toronto on a daily basis.
In addition to the varied demographic pockets located throughout the city, Aurora is also home to a great number of large and successful corporations which provide a great deal of employment to the city's residents, as well as a hub for many business transactions. Auto parts giant Magna International has called Aurora home, and has been a prominent part of the growing economy of the city of Aurora.
In recent years, a new development plan has been put into place that will intensify residential and business population along one of Aurora's main corridors along Yonge Street. Officially called the "Aurora Promenade", this new plan of development will allow much easier and quicker access to and from Aurora, and into Toronto cores.
Such development is predicted to greatly stimulate new and redevelopment of residences, as well as generate thousands of businesses and jobs. Such a plan will inevitably be responsible for the re-invigoration of the core of Aurora's downtown area.
Growing Cities Need Professional Aurora Translation Services
As the city of Aurora continues to develop and grow, it will be inevitable for such a city to require Aurora translation services. The world economy has developed a wide range of marketplaces, and as such, businesses all over the world, including those located in Aurora, are regularly communicating with their foreign counterparts.
When dealing with contracts in a language and culture that is foreign, the need for Aurora document translation becomes more and more required.
Businesses in a global market need to find adequate translation services in Aurora that will help them meet all of their criteria and requirements, which will ultimately prevent problems. When it comes to Aurora translations, accuracy, proficiency and quality is of utmost importance.
For this reason, the help of a professional Aurora translation agency, like TorontoTranslations.com, is crucial. No matter if your requirements are for French to English translation, Chinese to English translation, or any other language or dialect translation, TorontoTranslations.com is more than capable for the task.
Call TorontoTranslations.com For All Your Translation Needs
TorontoTranslations.com offers clients effective interpretation and document translation services in a wide variety of languages and dialects. The roster of Aurora translators with TorontoTranslations.com are highly skilled and versed in over 150 languages, making any document translation project in Aurora simple and accurate.
Before being added to the database, our Aurora translators are thoroughly assessed for complete competence, giving you the assurance that your document translation project is in good hands. Whether you are in need of French to English translation, or even Chinese to English translation, TorontoTranslations.com has the perfect translator to team up with you.
Our customer service, quality of work, and competitive pricing will keep you coming back! Call us today for a free quote, and have your translation conducted by a highly skilled Aurora translation service!
Our Aurora Translation Services are Always Completed with Accuracy and Urgency, Call 416 222-2896 Today!

Go back to Local Services