Financial Translation Services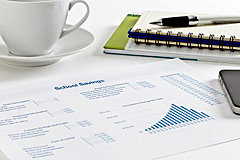 Financial documents are the lifeblood of businesses, from the smallest neighborhood mom-and-pop to Toronto's largest multinational firms. At TorontoTranslations.com, we understand the importance of making financial documents like equity reports, annual reports, and prospectuses available in a variety of languages spoken in the greater Toronto area, including such widely-spoken languages as Chinese, Italian, and Urdu, in addition to the French required by Canadian.
Make Sure Your Financial Documents are Translated by Professionals, Call Us Today!
TorontoTranslations.com utilizes translators who are not just native speakers of the languages they translate but also are experienced with financial documentation. This means that they have an insider's understanding of how financial documentation works so they can translate these documents in the most accurate way possible. As a result, our translators are able to quickly and efficiently translate industry-specific terminology, finance-specific terms, and other technical material that must be carefully and accurately translated to preserve the exact meaning of your original financial documentation.
Get Access to The Most Experienced Financial Translators in The Industry 24/7!
When you place your translation order with us, we'll match your project to one of our most qualified translators in your target language with financial translation expertise to ensure a good fit for your translation needs. Your expert translator will analyze your document and your target audience to ensure that the translation you receive is fast, fluid, and accurate as well as culturally appropriate for the linguistic community you need to reach. Then, we have a second translation expert review your translation to guarantee that it is accurate and fluid before uploading it to our exclusive database system so it will be available to you for instant download.
Experience Our Quality and Speed… Place an Order Today
Torontonians speak more than two dozen languages, and we understand how vital it is to ensure that your financial documents are available in the specific languages you need them to be in. With TorontoTranslations.com by your side, your annual reports, investment reports, equity reports, prospectuses, and more can be ready and waiting for your non-English-speaking audiences whenever you need them to be there for them. We're standing by to start your next project with our guarantee that every translation we produce will be accurate and on time.
Translation Documents Handled With Urgency and Care - Let's Get Started!
Call 416 222-2896 Today!