Audio-Video Transcription And Translation Services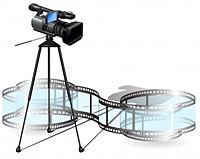 Not every translation project involves text-based translation services. Many times individuals and businesses need audio or video recordings transcribed and translated as well, for everything from producing transcripts of non-English newscasts to translating recorded court depositions. No matter what audio or video recording you need translated, TorontoTranslations.com has the translators and interpreters you need to translate recordings in more than 150 world languages and dialects, from Armenian to Zulu and beyond.
Our transcription experience is vast and deep… order your transcription project today!
Our transcription and translation service works by taking your original recording and transcribing it word-for-word to create a written record of what was said. We then use the services of an expert translator to create an accurate and fluid translation of the original recording. Each of our translators is a native speaker of the language he or she translates, and our translators have all passed our most rigorous qualification procedures to merit a spot on our translation team. We use an exclusive database system to match each incoming project to the perfect translator with the combination of language skills and subject matter expertise to produce the best quality results. As a result, you can rest assured that not only will your translation be done accurately, it will also be as readable and fluid in the target language as it was in the original.
We can transcribe and translate your project in one efficient manner everytime
As a local T.O. company, TorontoTranslations.com understands the community and its unique needs. We know that in this city more than one million residents speak a language other than English as their native tongue, and we know that more than three dozen languages have a greater number of speakers in the Toronto metropolitan area than most Ontario towns have residents. Because of this linguistic diversity, you are increasingly likely to need audio and video recordings translated from popular languages like Italian, Chinese (all forms), Punjabi, Tagalog, Portuguese, Spanish, and Urdu. That's why we're here to help.
Don't get the messages in your audio and video files misinterpreted, contact us today!
We work day and night to transcribe audio and video recordings and translate them quickly, fluidly, and accurately. No matter how quickly you need your audio or video recording translated, TorontoTranslations.com is here to help you. We're local, and we're always standing by, 24 hours a day, to provide the community with the best in transcription and translation services.
Translation Documents Handled With Urgency and Care - Let's Get Started!
Call 416 222-2896 Today!