The Need for Business Translation Services in Today's Global Market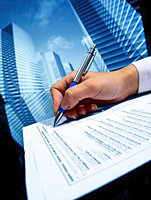 Today's business world is very challenging, which is why many corporations have looked beyond their own borders and have sought business in foreign countries. Going global with your business will inevitably require the need for business translation services in order to effectively communicate with foreign business partners and understand foreign consumers. In addition, there are a variety of financial and legal documents that will need to be accurately translated using proper terminology.
Going Global in a Competitive Business World
Nowadays, running a successful business often means taking your marketing tactics to other countries whose native language is not English. The ability to properly communicate with potential clients and customers in their own native tongue will lead to an increase in business and revenue.
This is why translation services such as those offered by TorontoTranslations.com are so crucial to the success of businesses and corporations worldwide. Their services are able to bridge the gap between those who don't speak the same language, and would therefore be unable to communicate effectively otherwise. Taking the extra effort required to communicate with foreign customers in their native language and with knowledge of their culture gives you the ability to understand your global consumers and show them that you care about their language and culture.
Using Proper Business Translation to Get Your Marketing Message Across
Translating is not necessarily as straight-forward as converting a document from one language to another, especially when it comes to business and marketing. Localization is an important factor when it comes to marketing to other countries, since idioms, values and cultural characteristics specific to each country must be accounted for.
Break Down Language Barriers With the Use
of Professional Business Translation Services
Don't let a foreign language get in the way of your business expanding and profiting greatly. By using expert services such as those offered by TorontoTranslations.com, your marketing can properly and efficiently attract consumers in others countries around the world. Translators on their roster are able to effectively translate documents, websites and marketing material to appeal to the masses in any country you advertise in.
Why use the services of TorontoTranslations.com? Here's why:
24-hour weekday customer service center
Qualified customer service representatives
Large roster of certified translators and interpreters
Fast delivery
Same-day and last minute translation and interpretation services
Discover how TorontoTranslations.com can help you expand your market with the use of business translation services.
Get your Documents Translated Accurately and on Time by Local Professionals,
Call 416 222-2896 Today!

Go back to Translation Resources