Gatineau Translation Services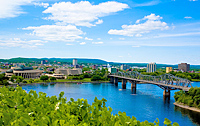 Gatineau is a city in the western part of Quebec, which lies on the northern banks of the Ottawa River. Gatineau is actually right across from Ottawa, which is the capital of Canada. Both of these cities together form Canada's National Capital Region. Because of the close proximity of Gatineau to predominantly English-speaking Ontario, there is a need for students and professionals, as well as general citizens, to be bilingual, or at least have a reliable source of Gatineau translation services in order to make communication efforts much simpler and more effective.
English to French Translation
Considering the fact that the geographic location of Ottawa sits right on the Ontario-Quebec border, this city tends to be the most bilingual city in all of Canada. Since Gatineau is so close to Ottawa, and has close governmental ties with this bilingual capital of Canada, just about all government employees speak both French and English. In addition, all government documents must utilize English to French translation in order for all parties to be able to read and interpret them efficiently. Therefore government document translation is also essential.
Working With a Reputable Translation Service: Ottawa-Translations.com
Whether you require English to French or French to English translation services for an important international meeting in Ottawa or Gatineau, or require government documents to be translated, Ottawa-Translations.com can help in any facet necessary.
Here are some of the benefits you will receive through the services offered by Ottawa-Translations.com:
We specialize in English to French and French to English translation services
Our roster includes 3,000 knowledgeable and experienced translators from all sorts of professional backgrounds
Any level of complexity of documents welcome
Our turnaround time is very quick
We have experience with government document translation
High quality assurance on every translation project
24-hr emergency client support for service when you need it most
Customers outside the Gatineau area are also able to order services from Ottawa-Translations.com, regardless of their geographical location outside of this city.
Leave Your Gatineau Translation Services in the Right Hands
Call now or go online to Ottawa-Translations.com and get a quote from one of our friendly and knowledgeable customer service representatives. We'll be happy to go over your specific needs and budget, and provide you with high quality English and French translation services that will meet your needs. Call us today!
Order Your Gatineau Translation Service For All Your Personal or Business Documents Today! Call 416 222-2896 Now!

Go back to Local Services