Document Translation Services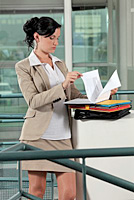 TorontoTranslations.com offers document translation for legal, financial, medical, and other types of documents. Please see our individual pages for our specific document translation services in these and other areas. We also offer personalized translation services for your personal documents, including letters, driver's licenses, certificates, and other personal records that you'd like translated into any of the more than 150 world languages and dialects we translate.
Our Translation Team is Experienced
in Any Type of Document or Language
No matter what type of document you need translated, we have the translator you need to translate your document accurately, fluidly, and quickly. When you place your order with us, we'll follow the same efficient, high-quality translation procedure whether you are a multinational company looking to have an annual report translated or an individual translating a personal letter.
We're Open 24-7 to Ensure Your Project's Success
First, we evaluate your document do determine its tone, its complexity, and its audience and purpose. Then, we match your document to one of our expert translators who is a native speaker of the language you need it translated into. Our translators live and work right here in Toronto and understand exactly how to translate materials for local and international audiences.
Once your expert translator receives your document, your translator will complete your translation. We will never use a machine to translate your documents; every document is translated manually by an expert human translator. We then have a second expert translator review your document to guarantee accuracy. We then upload your completed document to our exclusive database system where it becomes available for you to download instantly.
Our Quality Control System Ensures Accuracy and On-Time Completion!
With more than a dozen languages in Toronto having more than 60,000 speakers each, it can be a challenge to find qualified translators to help you communicate across T.O.'s language barriers. But with TorontoTranslations.com on your side, you can have high quality translations of your most important documents available whenever and wherever you need them. We guarantee the accuracy of every translation so you can rest assured that your translation is in the best hands. That way you can focus on what really matters to you and not have to worry about whether your documents will be translated correctly.
Translation Documents Handled With Urgency and Care - Let's Get Started!
Call 416 222-2896 Today!