Technical Translation Services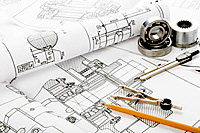 Every industry has industry-specific terminology used to relate important information in a way that other industry specialists understand. This terminology, however, can be a challenge to translate when technical documents must be delivered in languages other than English. These types of translation require specialized industry knowledge on the part of the translator as well as a careful attention to detail in order to guarantee that the material is translated with absolute accuracy from one language to the next. In the Greater Toronto area, the presence of more than a million speakers of languages other than English has made technical translation essential for businesses throughout the area.
Trust our Technical Translators with Your Technical Documents and You'll See the Difference
At TorontoTranslations.com, we have expert translators trained in a variety of industries, including manufacturing, biotech, telecommunication, aerospace, and many more. Our translators combine this deep knowledge of industry-specific terminology with fluent understanding of more than 150 world languages and dialects to deliver powerful translations of technical documents for personal, professional, and corporate use. Whether you are looking for translations of manuals, product documentation, or proprietary information for product manufacture or marketing, we have the translators you need.
We Have Translators and Interpreters Who Have Expertise in Every Industry
and in Over 150 Languages!
When you place your order with us, we will examine your document for tone and complexity. Then, we will match your order to an expert translator who is a native speaker of your target language and who has industry expertise in your field. Your expert translator will apply knowledge of your industry to ensure that all technical terminology is carefully translated with complete accuracy into your target language. We then have a second expert translator review your translation before you receive it to guarantee its absolute accuracy.
We're Translation Perfectionists! We Work 24-7 to Ensure Precision and Prompt Service
Turn to TorontoTranslations.com for your technical translation needs. We understand the special needs of Torontonian businesses because we're one, too. We live and work right here in T.O., and we know the Toronto business community, its industries, and its language needs—including the dozens of global languages spoken most in Toronto, such as Chinese, Italian, and Urdu.
Translation Documents Handled With Urgency and Care - Let's Get Started!
Call 416 222-2896 Today!