Medical Translation Services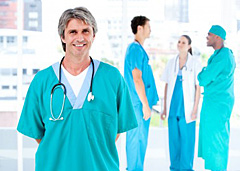 In the Greater Toronto area, more than one million residents speak a language other than English. Medical professionals understand how challenging this can be in delivering clear, accurate information in a way that patients and their caregivers can understand. This means that translation services are not just beneficial but essential for medical professionals in Toronto. Because in medical translation accuracy is the most important element, TorontoTranslations.com emphasizes accuracy above everything when it comes to these most important translations.
Over 10,000 Projects and Counting, You Can Depend on Us for Your Medical Translations in Toronto
TorontoTranslations.com is a local company that specializes in the languages spoken in Toronto, including the two dozen most commonly-spoken languages. Among these are Italian, Chinese (all forms), Punjabi, Tagalog, Portuguese, Spanish, and Urdu. We can translate medical documents including medical texts, prescriptions, medical software, labels, manuals, glossaries, and any other medical related documentation. We can also provide interpretation services for medical consultations, including translating medical terminology into layman's terms.
From Prescription Details to Clinical Trials, We Translate Them All in Any Language
We work hard to ensure that every technical translation is completely accurate to guarantee that medical information is passed along efficiently and correctly to patients and caregivers. To do this, we use the services of expert translators who are native speakers of more than 150 world languages and also have years of experience working with medical documents and professionals. They bring this expertise to every medical translation to ensure that terminology is correctly translated and the accuracy of instructions from doctors to patients is never compromised. When you place your order with us, we'll match your document to one of our translation professionals who will then work with your material to provide a fast and accurate translation. We guarantee its accuracy by having a second translator review the translation for accuracy before delivering it to you.
Our Professional Translators are Fully Capable to Handle any Medical Translation You Require
When you need medical translations in Toronto, turn to the local company with medical translation expertise: TorontoTranslations.com. We live and work here just like you and work every day to provide translation services to the community and the many languages spoken by the most diverse city in the world.
Translation Documents Handled With Urgency and Care - Let's Get Started!
Call 416 222-2896 Today!