Vaughan Translation Services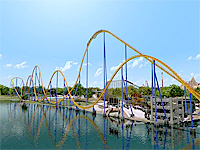 Vaughan is a rapidly growing community just north of Toronto, and is considered to be one of the fastest growing cities in Canada. Industry is booming in Vaughan, with all sorts of businesses popping up and thriving. For this reason, the population is growing very quickly, with a rich and vibrant diversity among its residents.
Although many ethnicities make Vaughan their home, a large portion of the city's population is made up of Italian-Canadians. Many of these Italians still speak only their native language, and are not fluent at all in the English language. For this reason, often Italian to English translation is necessary in order for proper communication to take place between certain parties. This is especially true in business and legal settings where accurate communication is essential.
Supplying Vaughan Translation Services to the "City Above Toronto"
TorontoTranslations.com is a Canadian translation company who has provided translation and transcription services to individuals and businesses in Vaughan. We have successfully completed over 10,000 translation projects in a variety of realms, helping a diverse group of clientele to meet their translation needs.
We have a great deal of experience in delivering quality translation, interpretation and localization services for a variety of industries in over 150 languages and dialects. Whether you require government translation, document translation or marketing translation services, TorontoTranslations.com will deliver quality assistance.
Services Provided By TorontoTranslations.com
At TorontoTranslations.com, we strive to provide our clients with a wide range of translation services to meet every need in the industry. This includes the following services:
Government Translation
Document Translation
Website Translation
Advertising Translation
Financial Translation
Legal Translation
Technical Translation
Medical Translation
Whatever your needs, our Vaughan translation services are here to deliver.
Discover Why TorontoTranslations.com is Your Best Choice For Your Translation Requirements
There are a number of reasons why TorontoTranslations.com is able to provide you with the best translations services in the business:
Fast delivery of translation projects, including emergency translation services
Highly qualified and trained translators
Local knowledge of legal frameworks
Competitive and affordable prices
Personalized services
Top quality work
24/7 customer service availability
Extensive variety of languages and subjects areas
Confidentiality
Whether you have a legal document to translate, a medical document that requires transcription, or simply require interpretation services in Italian to English translation, TorontoTranslations.com has the team of knowledgeable and professional translators to assist you.
Call or email us today for a free quote, and discover why countless clients have trusted our impeccable Vaughn translation services!

Go back to Local Services