Richmond Hill Translation Services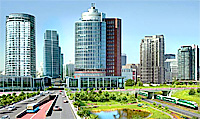 Coming Up Roses
When it comes to finding a home around Canada's largest city, Richmond Hill has established itself as the place to be. Just twenty kilometers north of Toronto's downtown core, it's among the most populated municipalities in the country and has begun to develop a culture that's entirely its own. Richmond Hill was once known as the "Rose Capital of the World" and the city's motto maintains its ties to that particular flower; translated from French, the official motto reads "Like the rose, I flourish." The unofficial motto, meanwhile, is a tongue-in-cheek jab at their big-city neighbor: "A little north, a little nicer." Can't we all just get along?
Growing Fast
Throughout the 1990s, Richmond Hill was the fastest growing city in Canada and todays boasts almost 163,000 residents. Of that population, minorities make up nearly half. That's why translation services have become an integral part of Richmond Hill and their continued growth. Nearly 25% of people living in the city now are of Chinese descendent, and Chinese to English translation services are in high-demand in the area. Beyond just foreign language translation, French to English translation is a critical part of what keeps the bilingual crux of Canada going. With its proximity to the largest city in the nation, Richmond Hill is a hotbed for newcomers to Canada, and the translation services provided there are vital to continued economic and financial growth in the area.
How TorontoTranslations.com Can Help
We at TorontoTranslations.com help businesses and people in culturally diverse cities like Richmond Hill. Canada is one of the most multicultural nations in the world, and part of keeping up with the ever-changing dynamics of people is sound, accurate translation services. Our team of translators facilitates effortless communication among people and establishments. At TorontoTranslations.com, we translate more than just the words on the page; we translate the meaning behind those words so you get the most accurate translation possible.
Our large team of educated and highly skilled translators are capable of working to your tightest deadlines. Call or email us today for more information about how TorontoTranslations.com can help you with all your translation needs in the Richmond Hill area.
Have a Local Richmond Hill Translation Service Provider translate Your Document Today! Call 416 222-2896 Now!!

Go back to Local Services