Markham Translation Services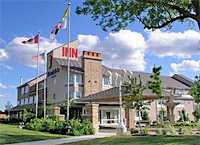 Moving On Up
For a place that more than 300,000 people call home, Markham was certainly due for a status upgrade. This past Canada Day, the suburb of Toronto saw itself go from a town to a full-on city, carving its own niche amongst the largest number of municipalities in the country. It's a fitting change for an area steeped in Canadian history. The first Lieutenant-Governor of Upper Canada, John Simcoe, named this former town after his friend William Markham. Now, Markham the city is a hub of business and tertiary industry. Business services is the number of economic industry, with nearly 22% of people working in it, while simultaneously holding almost 900 technology and life sciences companies, including IBM. A plethora of other multinational companies also hold their Canadian headquarters in Markham, including Honda Canada, American Express and Apple, Inc. Clearly they've earned their upgrade already.
Here For the Long Haul
With so many international corporations choosing to set up show in Markham, its shined a light on the area's need for reliable translation services. Many of the corporations are based in China originally, so Chinese to English translation of pertinent business-related materials is a key to their successful transition into a Canadian market. Furthermore, as a bilingual country that caters to both English and French speaking populations in all provinces and cities, French to English translation is crucial to a businesses success and for individuals wanting to work for a large company in Canada. With companies needing to be accessible to large factions of non-English speaking populations (nearly 65% of Markham's population is of Asian descent), translation services for documents, financial business and manuals keeps the lines of communication open while new people and businesses find their footing in the marketplace.
How TorontoTranslations.com Can Help
In order to make a business run smoothly, proper communication must be a priority. We at TorontoTranslations.com help businesses and people in culturally diverse places like Markham, who's economic success depends on people who don't just speak English. Our team facilitates effortless communication among people and establishments by translating more than just the words on the page; we translate the meaning behind your words so you get the most accurate translation possible.
Our large team of educated and highly skilled translators work to your tightest deadlines, on your schedule. Call or email us today for more information about how TorontoTranslations.com can help with any of your translation needs in Markham.
Your Documents Should Always be Translated Accurately and on Time by a Local Markham Translation Service Professional, Call 416 222-2896 to Book One Today!

Go back to Local Services